Efficiency is a backbone in the business world, as getting the most out of the least amount of operating costs helps saves money. If your commercial business is looking to save money, but not sure where to start, try lighting. Energy costs can be reduced from 10 – 40 percent when utilizing LED lights, so what're you waiting for? In this blog, we're going to discuss why LEDs can be a great investment for commercial businesses.
Energy Efficiency
Energy efficiency equals increased savings, and LED lights can provide that for your commercial business. LED lights are extremely efficient compared to their counterparts, which reflects savings on energy bills and costs. Furthermore, this efficiency is also cost effective and a worthwhile investment for commercial businesses to consider. You will save immense money with LED lights, and help to ensure efficiency with operating costs.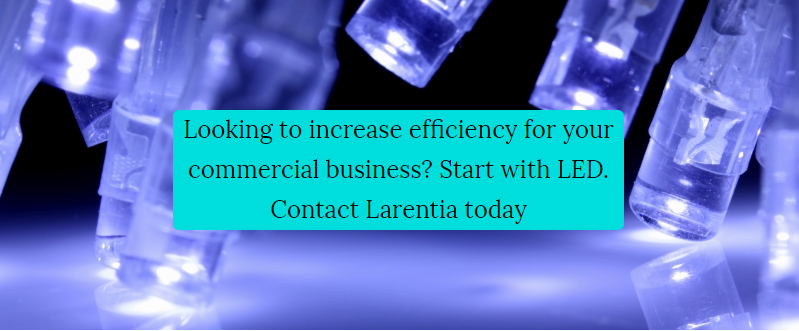 Long Lasting
Accompanying the benefit of energy efficiency, LED lights are also extremely long lasting. Compared to their fluorescent counterparts, quality LED lights can last 25 times longer than traditional lighting bulbs as they have a useful life of about 25,000 hours. This provides your commercial business with the the assurance that your you won't have to continue to spend money on replacements.
Sustainable
If your commercial business is looking to become more efficient, then it is also looking to become sustainable. Sustainability can be reflected in the positive effects LED lights have for the environment. This can be seen in the reduction of energy costs, as well as the absence of mercury. An Energy Department study highlighted this, as LED Lights have a smaller environmental impact than incandescent bulbs.

If your commercial business is looking to become more efficient, starting with lighting can show immediate results on money savings, as well as efficiency with the long-lasting and sustainable nature of LED lights. At Larentia, we work with commercial projects to offer quality LED light installation, To learn more, visit our website or contact us today!